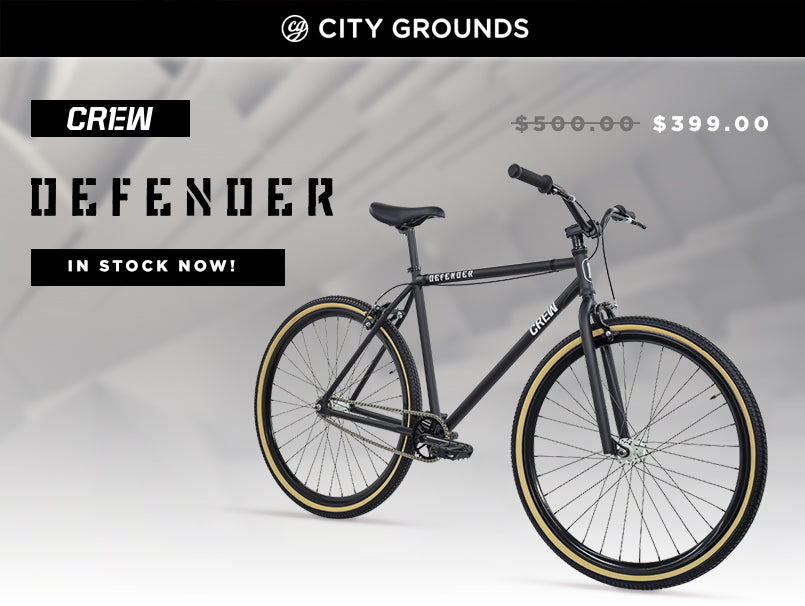 The 2020 Crew Defender Has Arrived!
We are really stoked to announce the arrival of the all-new 2020 Crew Defender! This sleek and modern bike comes in two colorways and is jam-packed with all the perfect features to help you hit the ground running. Crew Bike really knocked the ball out of the park with the defender and we are really excited to offer a detailed look at this awesome street machine!
The new Crew Defender comes equipped with a Chromoly frame and fork, with beefy 700x42c tires! Ride it fixed gear, ride it freewheel; either way, this is the perfect bike to ride around town.
The components on the Crew Defender provide a smooth and responsive ride offering the rider maximum control in any situation. Crew Bike Co. really went out of their way to provide the best quality parts at a great value!
 The half-link chain, sealed-bearing hubs, and double-wall rims add to a solid performance. Whether you're poppin' wheelies in the city or hitting gravel roads in the country, the Crew Defender can handle it all! The Crew Defender is only available at City Grounds so be sure to grab yours while supplies last.
Related Posts
Sign up to the City Grounds mailing list
Receive exclusive offers and discounts