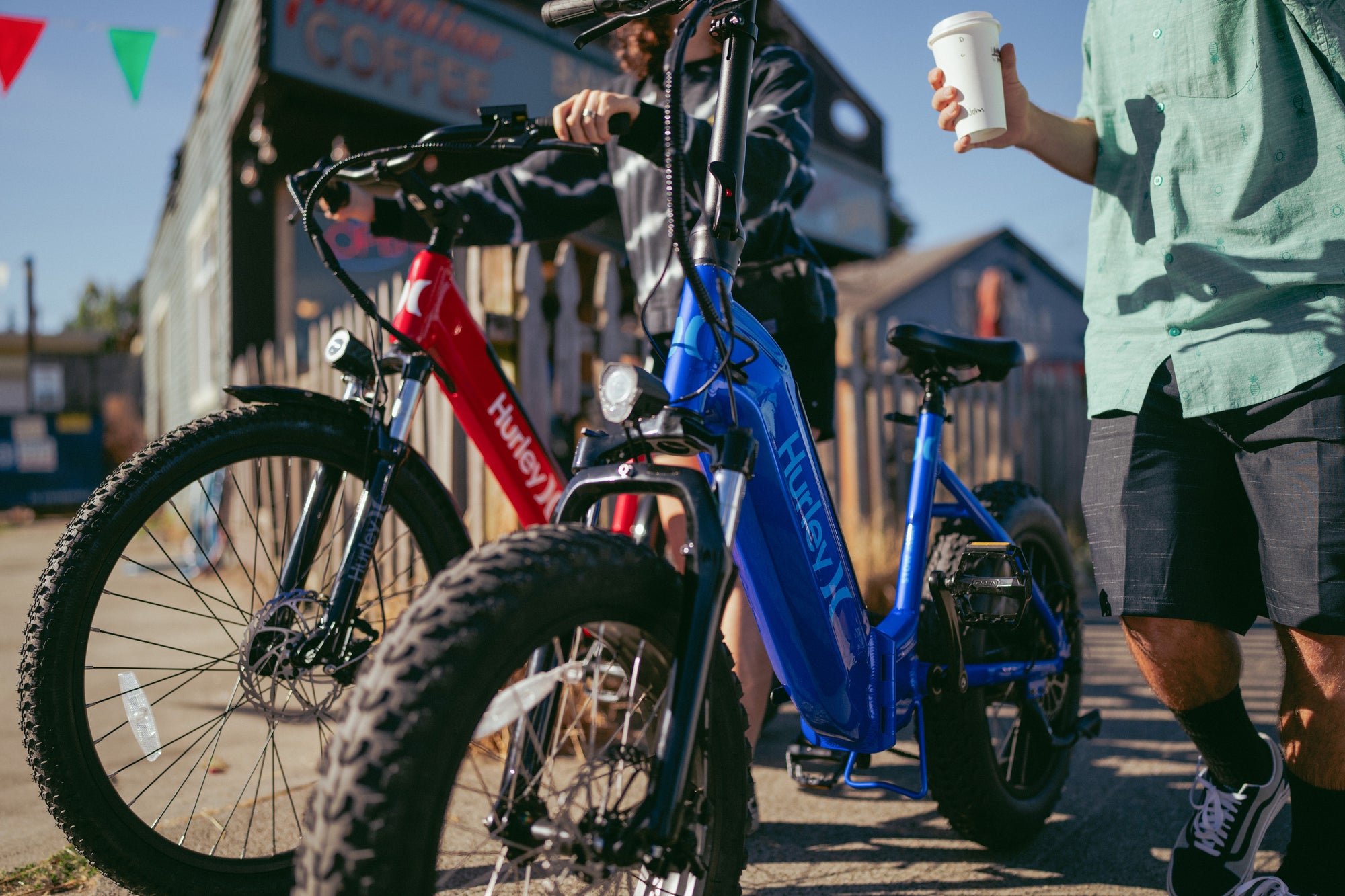 Hurley 2023 Bikes are Here!
Posted by Brian Michaelis
You've seen the Hurley brand before, but have you seen their bikes? Introducing the 2023 line- Hurley's most thoughtful, unique and exciting bike line yet. Art engineering, fresh ideas and signature Hurley style are at the forefront. This year brings variety while stepping well beyond the familiar bikes of the past. Every new rides has a reason, bringing the stoke to two wheels like never before. 
Pizza Bike Electric Bike
Whether you're into New York, Chicago or California-style pizza, this urban assault e-bike will deliver the goods at a great price. Power up those hills, blaze down the bike path and zip around the city streets. You can go farther and do more on Pizza Bike. When you're out there having a blast, just remember to get that pie home while it's still hot!
Hydrous 29E Electric BMX Bike
The Hydrous 29-E is a street cruiser like no other. From the hand-built alloy frame to the Oil Slick paint application, every single bike has a unique color—an unmistakably mesmerizing iridescent purplish blue. But there's more. It's got a sleek city look with hidden power in the internal downtube. And a lot of it at 500 watts, throttle only. Take to the streets. Catch some eyes. And go fast on the electric undercover Hydrous 29-E.
Stowaway Foldable Electric Bike
Great for travel, commuting or apartment living when storage space is at a premium, the ultra-portable Stowaway e-bike folds up to easily stow in the trunk of a car or a closet. Small in stature but big on power, get it out on the street and be amazed at how this compact bike performs.
Hydrous 27.5 Big Wheel BMX Bike
The Hydrous 27.5 brings even more street style to this BMX-inspired bike. Created by award-winning bike designer by Kevin Quan, the Liquid Series' Hydrous 27.5 is a beauty in metallic blue. Built to be fun and fun to look at, you have to see it for yourself.
Big Swell 2 Electric Bike
The Big Swell is a big deal. Designed and hand-built by Brooklyn's own Lance Mercado of Squarebuilt, this limited edition e-mini bike can rip on the beach, in the snow, and out on the open road. Hurley's powerhouse e-mini bike brings a whopping 1000 watts and 48 volt ride assist and throttle to the party. This show-stopping, jaw-dropping machine delivers serious power to go the distance—fast—while being completely loaded.
Related Posts
Sign up to the City Grounds mailing list
Receive exclusive offers and discounts