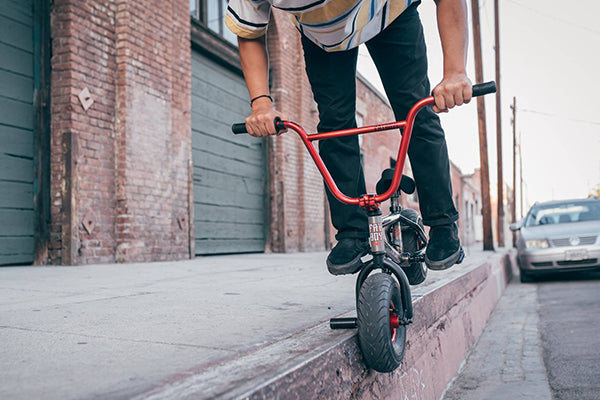 Fatboy Mini BMX Bikes In Stock
Fatboy Mini BMX Bikes are all of the fun of traditional freestyle 20" BMX bikes, but in an extremely compact & lightweight form factor. These tiny 10" two wheelers are ready to cruise down the street or tear up the local skatepark. 
Fatboy Mini BMX offers two options: the entry level Fatboy Stunt Mini BMX Bike, or if you're advanced, the Fatboy Pro Mini BMX Bike. 
The Stunt series is designed to take a serious amount of adult sized abuse. Fat tires, massive bars, and the front load stem makes any stunt a good one. As the extreme sport progresses Fatboy wanted to introduce a build for those interested in giving it a go, a light frame, bmx standard bars & a significantly stronger wheel. 
A bit of a step up, the Pro series is Fatboy's prime mini BMX collection. These are designed to take a serious amount of adult sized abuse, from back-flips to 540 spins. It comes with fat tires, massive bars, and our alloy top load stem.
Check out the Mini BMX bike in action in this video below...
For those of you out there who have been waiting for a proper mini BMX, one that can deliver everything that a full custom 20" BMX can deliver, these bikes are the ones for you. Hit the button below to check them out!
Related Posts
Sign up to the City Grounds mailing list
Receive exclusive offers and discounts