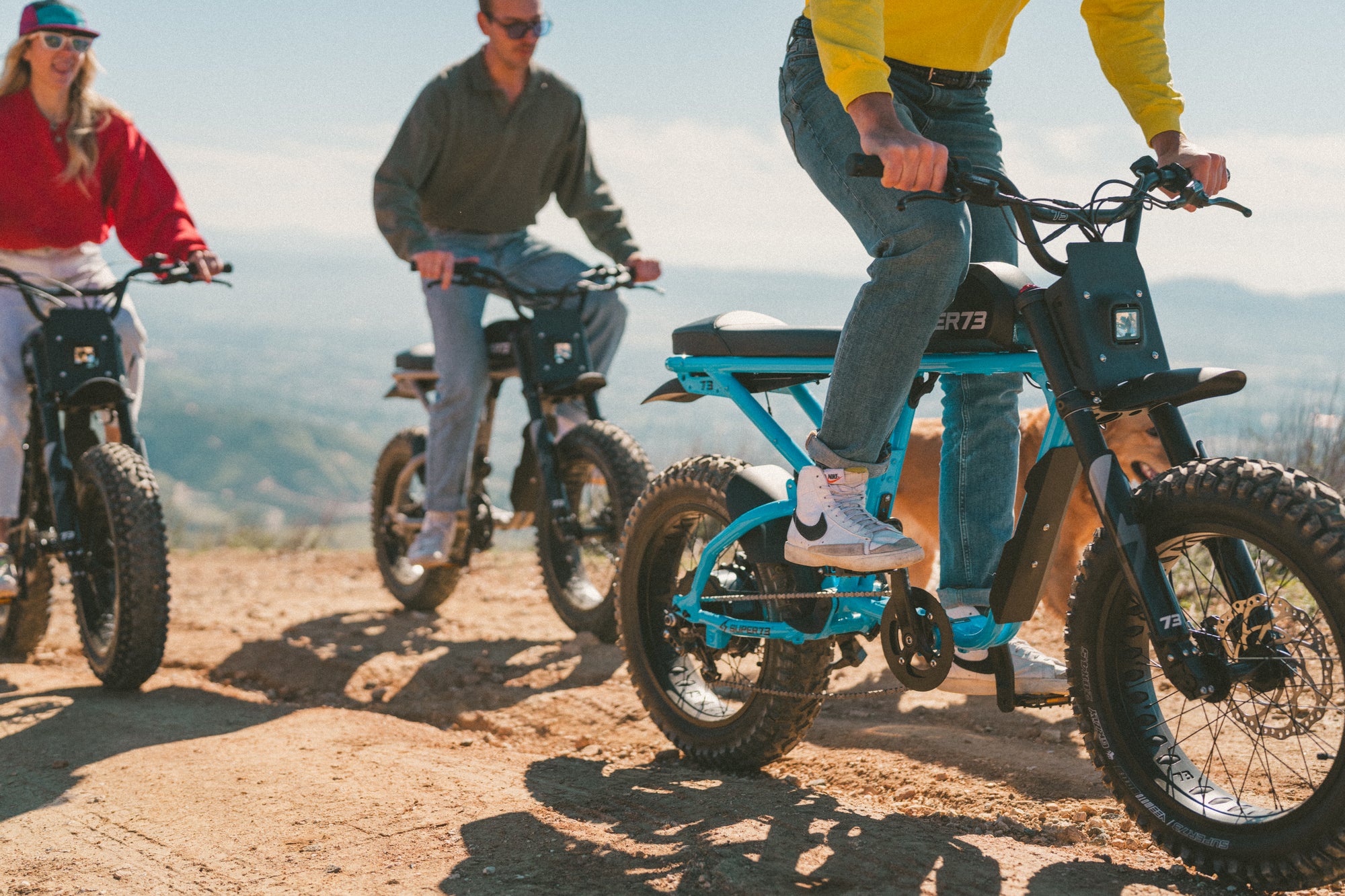 Best Electric Bikes 2022
The cycling renaissance happening in 2022 is powered, in part, by the growing popularity of electric bikes and their big advantages for riders. More and more people are choosing to get around by bike and opting for e-bikes for an extra boost in the city, on the trails, or wherever you love to ride.
After a shortage across the industry during the pandemic, e-bikes are back in stock and ready to hit the bike paths. As you're browsing, it's important to remember that e-bikes have a higher price tag than analog bikes due to their additional pedal power and accessories. That said, we've done the hard work for you and included some great deals on models available in 2022 so you can stay within budget.
With so many options to choose from, we've selected a handful that impressed us with their unique features and excellent value. Keep scrolling to take a closer look at some of the best e-bikes for sale in 2022.
Crew Dart V2
MSRP: $2,400
Sale Price: $1,799
Style: BMX
Motor: Bafang 750W
Battery: 13Ah Lithium-ion
Range: 20-35 miles
Available modes: Pedal-assist and throttle
Top speed: 28 mph
Amplify your BMX skills with the Crew Dart V2 e-bike that dominates city streets and dirt paths. This powerful, BMX-inspired electric bike is rated Class 3 meaning it has both pedal-assist and throttle modes and can reach a top speed of 28 mph. The Dart comes with a rear-hub Bafang 750W motor that's a great value for the price and is powered by a 13Ah battery that's smartly placed under the seat.
The single-speed gearing and low-rider seat compose a simple setup that's super fun and nimble on a variety of terrains. Wide and knobby 3" tires encourage off-road adventures and float over potholes when you're cruising through the urban jungle. Now available at a lower price of $1,799, the fun-per-dollar ratio on this ebike is out of this world.
Hurley Layback
MSRP:$1,149.99
Sale Price:$699.99
Style: Cruiser
Motor: 350W
Battery: 10Ah
Range: 30 miles
Available modes: Pedal-assist and throttle
Top speed: 20 mph
This electric cruiser from renowned surf brand Hurley epitomizes relaxed riding. The classic cruiser silhouette means a comfortable sitting position while the 350W motor lets you rip down the boardwalk. This entry-level model is ideal for people in coastal areas or recreational riders who want an ergonomic bike that'll flatten out the hills. The durable steel frame fits riders between 5'4" to 6'2".
The Class 2 Layback has pedal assistance as well as a throttle mode with a maximum pace of 20 mph. The 10Ah battery is mounted vertically above the pedals and offers up to 30 miles of range on a single charge. This model is offered at an astounding price that's a killer deal so if you are on the fence about e-bikes, the Layback is your ticket.
Aventon Level 2
MSRP:$1,949
Style: Commuter/Urban
Motor: 750W
Battery: 14Ah
Range: Up to 60 miles
Available modes: Pedal-assist and throttle
Top speed: 28 mph
As a fixie brand that pivoted into making ebikes, Aventon knows a thing or two about city-proof commuters. The Level 2 is a robust electric bike that can take a beating and deliver you to your destination in record time, all without breaking a sweat. This model is highly popular this year and comes equipped with accessories to help you navigate the urban environment. There's a rear rack, fenders, and impressive hydraulic brakes to excellent braking power in the wet. On the lowest pedal-assist level, its range can be up to 60 miles! The Level 2 is a great investment for daily commuters and city riders looking to upgrade to something with extra power and range.
State 6061 Commuter E-Bike
MSRP:$1,499.99
Style: Commuter/Urban
Motor: 250W
Battery: 10Ah
Range: 25-100 miles
Available modes: Pedal assist
Top speed: 20 mph
For cyclists who want their ebike to fly under the radar, the State 6061 commuter ebike delivers extra watts while still looking like a standard bike. The 250W motor and slim 10Ah battery are almost completely hidden and reach a top speed of 20 mph. The State 6061 is ideal for riders who want a moderate boost in the city and don't mind the lack of a throttle. This ebike is so lightweight that manual pedaling with no assistance still feels natural, too. We especially love this model's sleek style and the high efficiency that can reach up to 100 miles on a single charge.
Super73-RX
MSRP:$3,695
Style: Off-road
Motor: 1200W
Battery: 20Ah
Range: 40-75 miles
Available modes: Pedal-assist and throttle
Top speed: 28 mph
Off-road enthusiasts and adrenaline junkies will love the all-new Super73 RX electric bike. This rugged model boasts a motocross-meets-ebike design with full suspension and seriously capable oversized tires. The RX is a thrilling alternative to fat tire ebikes that's built for tough terrain like loose dirt, sand, and mud— the street-legal package and motorcycle-inspired geometry perform great in the city, too. The bike can be run as Class 1, 2, or 3 and has a high-powered Off-Road Mode that accesses the motor's top nominal output of 1200W (2000W peak). The throttle can be switched on or off and the range maxes out at 75 miles on a single charge thanks to the high-capacity battery.
Fuji E-Traverse 2.1
MSRP:$1,699
Style: Hybrid/Urban
Motor: Bafang H400B 250W
Battery: 417Wh
Range: 50 miles
Available modes: Pedals-assist and Walk
Top speed: 20 mph
The E-Traverse 2.1 from Fuji is a purebred hybrid bike that feels at home in the city and on bike paths. There's cushion from the front suspension and the fast-rolling 700c wheels boost the 250W motor's efficiency on paved surfaces. There are 5 modes of pedal assist as well as a useful Walk mode for pushing while off the bike. This all-rounder is much lighter than many other ebikes and stays true to traditional hybrid bike design. The externally mounted battery gives it extra range and versatility all day long whether you're commuting, running errands, or enjoying a weekend joyride.