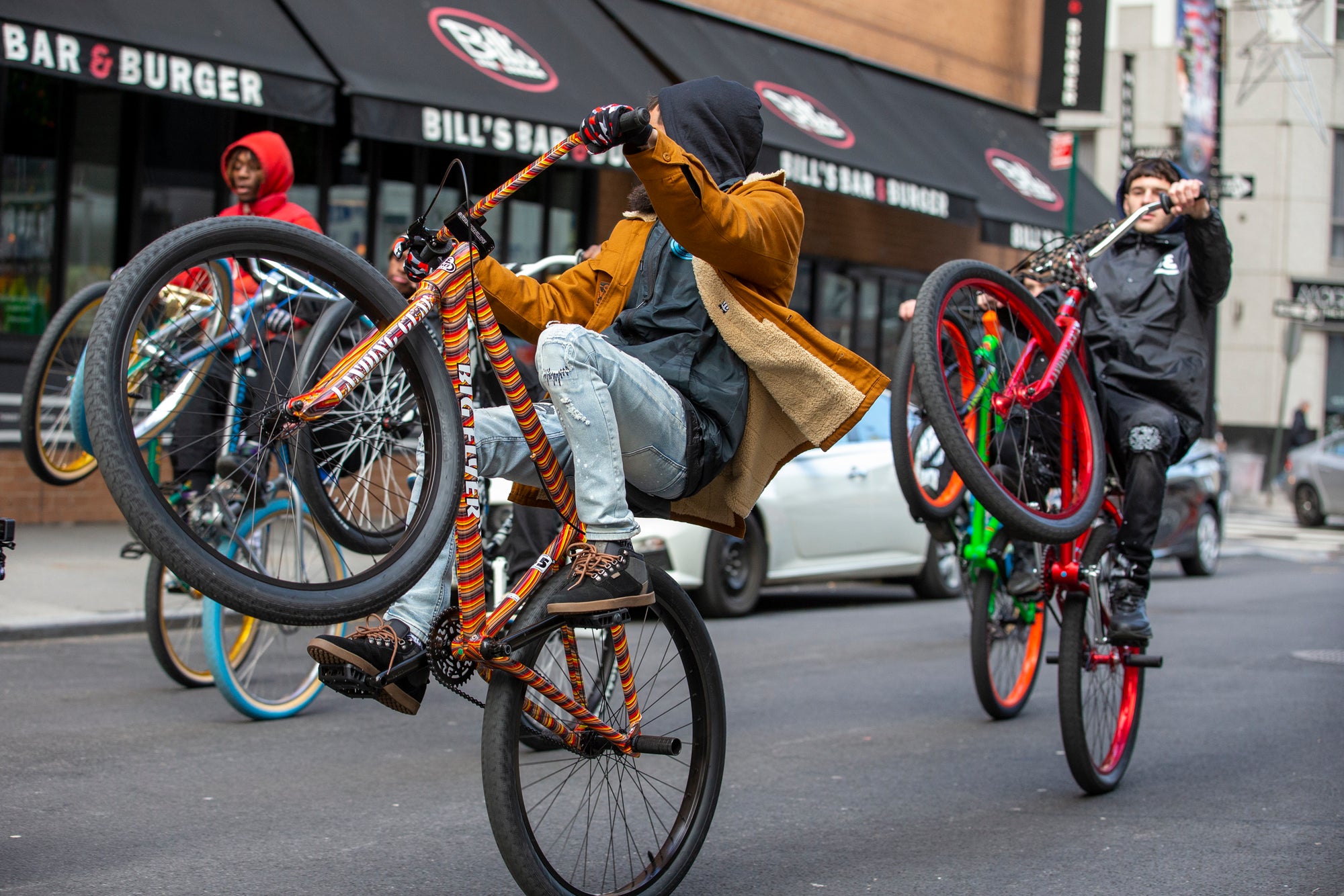 SE Bikes Holiday Sale
Time to get in the holiday spirit with a huge SE Holiday Sale! Take advantage of this special opportunity and pick up your next Big Wheel at a jaw-dropping price. BMXers can become a part of the long lineage of SE Bikes and purchase their slice of history as the brand turns 45 years old this year. SE Bikes got its start way back in the 1970s and put on the very first BMX championships while pioneering bike design, remaining of the best-selling brands in the US today. SE Bikes is constantly evolving and continues to make waves in the Bike Life scene and across BMX tracks throughout the world, helping riders pop wheelies, express their personal style, and test the limits of what's possible on two wheels.
Why the huge sale? City Grounds and other retailers happen to have a ton of SE Bikes rolling around and we want to get them out on the streets and into Bike Life as fast as possible. With so many great deals and steals available, inventory won't last forever so we recommend that you act fast.
MSRP $899.99/Sale Price $699.97
The 27.5"+ Maniacc Flyer is definitely an eye catcher! This beast of a bike is built around oversized 27.5" x 3.0" Vee x SE Speedster tires. The frame features an internal headset, mid-bottom bracket, and a short rear end to make it easier to get that wheel up. Whether raising it up on the streets or hitting the dirt jumps or the skatepark, Maniacc Flyer is the bike you need!
MSRP $849.99/Sale Price $699.97
A staple in BMX for nearly as long as the sport has been in existence, the 26" OM Flyer was originally designed by and named after SE's founder, Scot "Old Man" Breithaupt. With its blue colorway mixed in with bits of brown and the camouflage pads, this bike captures the essence of BMX's past four decades. It's built to last with a retro-styled 4130 butted Cr-Mo frame featuring a classic looptail rear end. Long live the OM!
MSRP $999.99/ Sale Price $699.97
The Dblocks Big Ripper has never looked so good! This bike is the signature ride of the king of the streets, Darnell Meyers, aka Dblocks. It's spec'd with specific parts that Dblocks has chosen, such as the Famous-inspired snow camo frame & fork, Freedom ThickSlick tires, Power Wing cruiser bars, and New York Flyer seat. If you want to stand out in the crowd, this is the bike to ride.
MSRP $999.99/ Sale Price $699.97
Fast forward 40 years to today and now it's the 29" Big Ripper that's on top during the Big Bike BMX boom. This Big Ripper frame now comes equipped with an American bottom bracket and an OG seatstay wishbone plate just like the original PK Ripper. The 29" x 2.4" SE Bozack tires are just wide enough to give stability and cushion, but also roll extremely fast. Whether you are an old school BMX rider reliving your youth or a new school SE bike life rider raising it up, the Big Ripper is for you.   
MSRP $1099.99/ Sale Price $899.97
This intimidatingly dope bike was designed for Beast Mode himself, Marshawn Lynch. The Seahawks' unstoppable running back has a love for BMX and this model combines bling with strength.
MSRP $699.99/Sale Price $499.97
When we say that "we've been here for years", we're not kidding. This year's So Cal Flyer marks the 15th year in a row that this awesome bike has been in the SE lineup. And these are the best ones yet! The frame features stiff Floval tubing, an internal headset, sealed bearing mid-bottom bracket, and wide rear stays. The parts package boasts 24" x 2.4" Bozack tires, double-wall rims, Raise It Up! seat, and SE nylon fiber pedals. When you're ready to raise it up past 12 o'clock, the So Cal Flyer is the bike you need.
MSRP $799.99/ Sale Price $649.97
A staple across the Bike Life scene, the Big Flyer needs no introduction, but its attractive silhouette and wheelie capabilities are worth repeating.
Related Posts
Sign up to the City Grounds mailing list
Receive exclusive offers and discounts