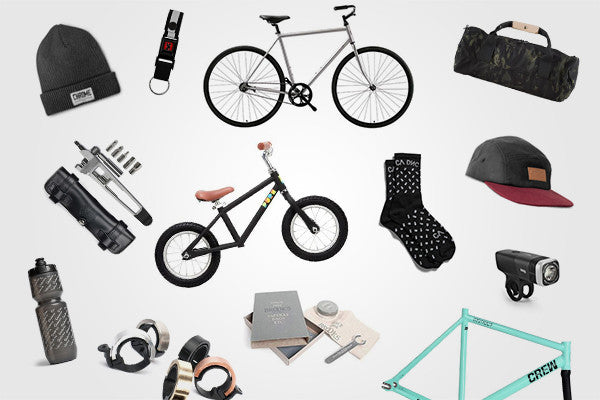 Holiday Gift Guide: 10 Urban Cycling Essentials
The City Grounds staff has gone through our extensive catalog of products and picked out their top 10 urban cycling essentials! Check out the list below and get your holiday shopping done for the cyclist in your life!
1. Full Windsor The Breaker - $60
A true multi-tool which does everything from breaking your chain to opening up your beer after a ride. This is a perfect addition to any cyclist's bag.
2. Mash SF Art Book & Video - $55
A whopping 350 pages of cyclist reading heaven AND a full length feature movie from the MASH crew based out of SF.
3. Chrome Kadet Sling Bag - $80
Looking for a great accessory for on and off the bike? The Chrome Kadet sling bags are the perfect size for the rider on the go.
4. Cadence Water Bottles - $14 & Up
Quench your thirst in style with an assortment of designs from urban cycling brand Cadence Collection using Purist technology in every bottle.
5. Aventon Parts Group Kit - $130
Designed with fixed gear riding in mind this package is the real deal with Push cranks, drop bars and Tektro Brakes, you'll have everything you need to build the project at hand.
6. Orontas Cleaning Essentials - $60
Orontas cleaning essentials are all created in a sustainable manner, with the environment in mind - plus, they look cool (always an added bonus). Choose from the full range of products including bike grease, oils, cleaner degreasers and lube.
7. YNOT Magnetica Backpack - $229 to $269
The Magnetica Backpack is the ultimate travel companion. Whether you are braving the wilderness or the city streets, this backpack will keep all your gear safe and dry.
8. Knog Oi Bell - $19.99
The Knog Oi is a bike bell that looks nothing like a typical bike bell. Which is not surprising if you follow Knog as a company, a company who acts nothing like a typical company.
9. Factory Five F5 Lattice Chainring - $89
Step your chainring game up with the F5 Lattice, precision CNC milled from a single piece of 7075 aluminium the dualplane cutouts maintain strength whilst reducing the chainring's weight to a mere 78g.
Shop Now
10. Crew Dat Wide Riser Handlebar - $20
Measuring in at 700mm wide with a 31.8mm diameter this handlebar is built to take everything you throw at it and add some style to your ride.
Check out all of our holiday gift ideas, hand-picked from the CG staff by hitting the button below.
Related Posts
Sign up to the City Grounds mailing list
Receive exclusive offers and discounts