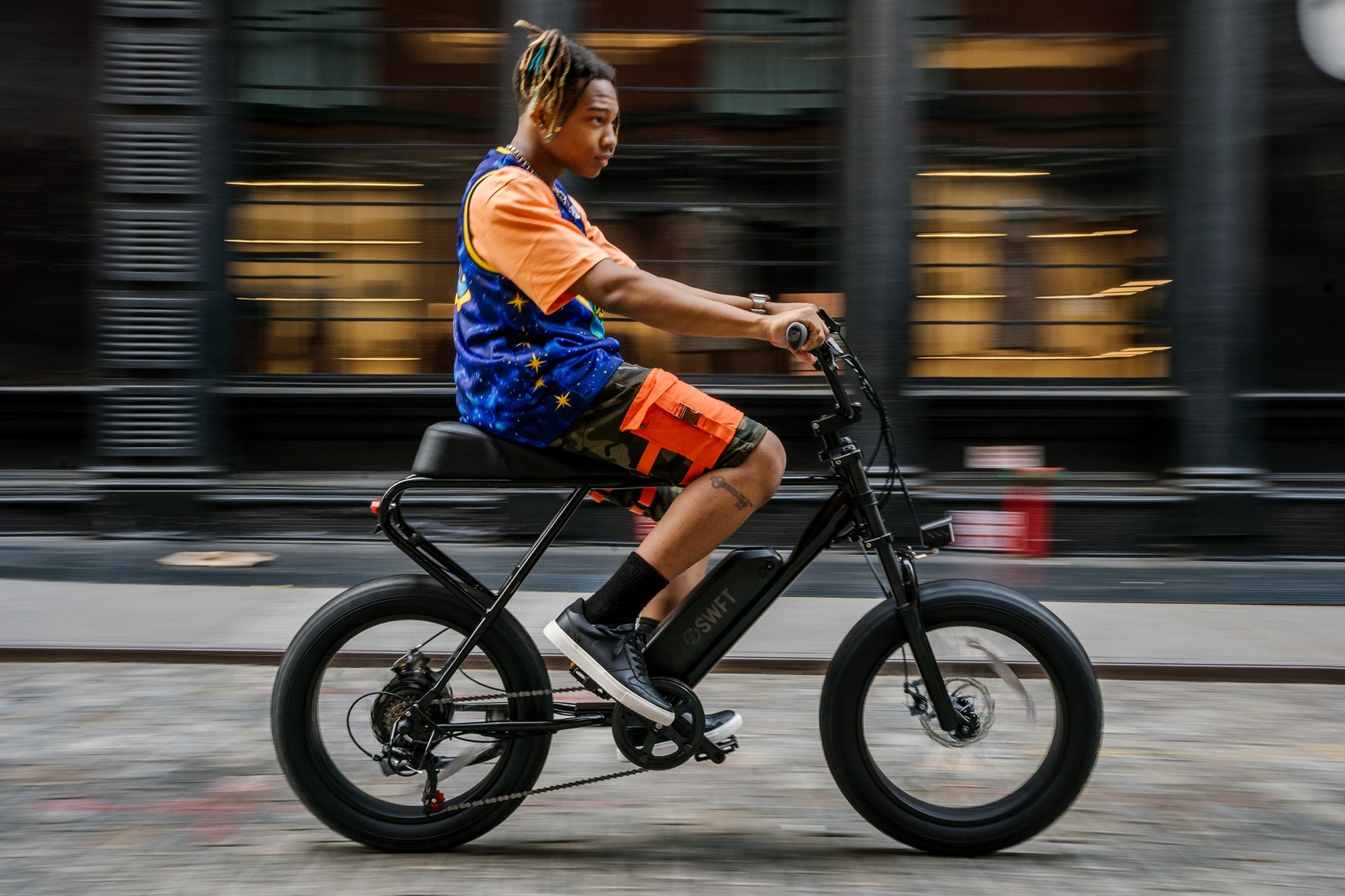 SWFT E-Bikes Now Available!
Posted by Brian Michaelis
The SWFT brand delivers city-proof ebikes for urban riders on the hunt for something different. They launched their line of electric rides back in 2020 and are committed to making bold moves in personal transportation. Their unique range of ebikes go beyond the run-of-the-mill ebikes that flood the market, including an electric BMX, a rugged motorbike, and a comfortable cruiser. SWFT works to empower their riders as they traverse the streets and dash through the grid, prioritizing the development of their products alongside their close community. Accessible prices and quality components take their innovative two-wheelers to the next level as well as their e-moped and scooter products. Designed with urban explorers in mind, SWFT gives a big boost as you soar through the concrete jungle.
SWFT BMX
Electrify your ride with the SWFT BMX bike that's ready to hit the skate park. Classic BMX touches like front and rear pegs and riser bars combine with a 350W rear hub motor so you can fly to your next destination at speeds up to 20 mph. The compact frame and 20" wheels let you whip around the park while their solid construction is tough enough to handle big tricks and daily use. Dominate your neighborhood streets with additional features like a built-in headlight and disc brakes that complete this dope two-wheeler.
SWFT Zip
Claim your throne as ruler of the urban jungle with the SWFT Zip electric bike. This rugged e-motorbike is built around a tough steel frame with 20x4.0" fat tires designed to beat potholes, curbs, and inclement weather. Plush front suspension lets you take this ride anywhere and there's room for an adventure partner on the extended saddle. Stay in beast mode for longer thanks to the powerful 500W rear hub motor that reaches speeds up to 20 mph and has a range of 37 miles.
SWFT Fleet
The SWFT Fleet is an electric beach cruiser that's the perfect fusion of new tech and throwback aesthetics. The 500W rear hub motor has both throttle and pedal assist modes so you can boost along the boardwalk or your local paths at speeds up to 20 mph. The classic steel frame shows off its curves and there's a high-capacity 10Ah battery mounted along the seat tube. Stylish touches include vegan leather grips and saddle so your new cruiser looks just as great as it rides.
Related Posts
Sign up to the City Grounds mailing list
Receive exclusive offers and discounts