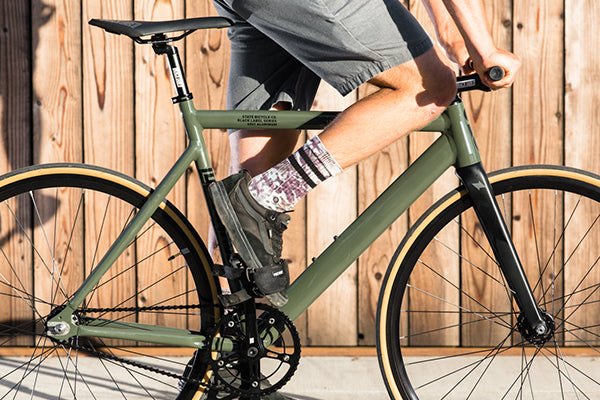 State Bicycle Co. 6061 Black Label V2
When State Bicycle Co. first released the 6061 Black Label series a few years ago, it took the fixed gear & track world by storm. The sleek, well thought out build, was exactly what riders were looking for - and at a fair price for the quality. The Black Label soon took over the city streets during crit races or casual rides and even let riders tackle their local velodromes.
Fast forward to present day and State has one-upped themselves by taking rider feedback and improving on the original. Read through to find out all of the upgrades in the newest rendition of the Black Label series.
The Frame
Starting with the frame, the first major change is to the headtube. V2 of the Black Label now features a tapered 1-1/8" to 1-1/2" headtube for added stiffness and responsiveness. State has paired that with a newly designed full-carbon fork from Essor. Taking into account customer feedback, a small, but often requested feature, has been added to V2 - bottle cage mounts. This is a feature rarely seen on track bikes, however, as more and more customers are taking these for longer rides on the roads, State felt this was a MUST.
The Components
From top-to-bottom, the 6061 Black Label V2 has been reimagined with a complete component overhaul. Starting with a fully CND'd 48t Track Crank and Chain Ring, with a versatile 144BCD (previously a 130bcd crank), allowing users to mix and match their crank with the top aftermarket chain-rings on the market.
The Wheels
The wheels have also been given a lift, as the V2 features, a lighter 30mm mid-profile wheel with sealed hubs. In all, the completes are 1.5 lbs lighter than the previous generation.
The State Bicycle Co. 6061 Black Label V2 Series will be available within the next few weeks as a complete bike or frameset in 4 different color options. Hit the button below to check it out
Related Posts
Sign up to the City Grounds mailing list
Receive exclusive offers and discounts