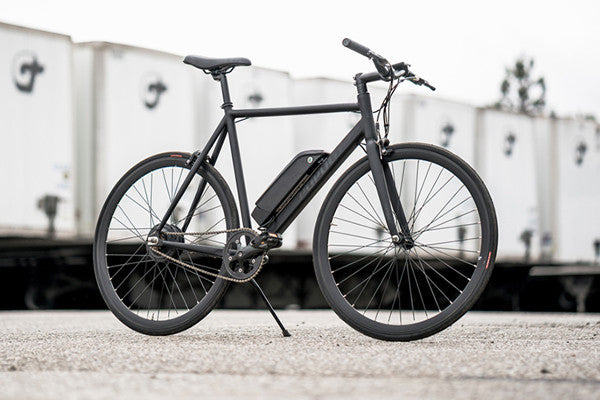 Populo Sport Electric Bikes In Stock
Although City Grounds started out as a fixed gear specific shop, we've expanded over the years and now carry all types of bikes including road, city, cruiser, and BMX bikes. Recently, we've added electric bikes (aka e-bikes) to that list. The electric bike industry is quickly growing and has really come a long way since we first saw them popping up at tradeshows. E-bikes are now a viable means of transportation, and not simply a gimmick or fad product. The technology behind these bikes have really come a long way and are ready for the streets.
That's why we are excited to now offer the Populo Sport Electric Bike. the Populo Sport allows you to smash the commute, without the sweat. The sport is the premier single speed E-bike. Populo designed this bike with the quick handling of a fixe but super charged it with a pedal assist systems to deliver a fun, fast and easy to handle ride.
But just because its a pedal assist bike doesn't mean that it has to look bad. The Bike keeps a slim and light profile thanks to 6061 smooth weld aluminum alloy. With all these features combined your ready to take on the city with style and confidence.
As for the tech specs, this bikes comes with an HL 36V 250W motor, Panasonic Lithium-Ion 36V8.7Ah battery, smart LED screen w/ usb charge port, speed sensor, and much more. The Populo Sport comes available in three color options: Blue, Black, or Polished. Check out the rest of the details over on the product page and add an electric bike to your bike stable for $999.00 plus free shipping!
Shop Now
Related Posts
Sign up to the City Grounds mailing list
Receive exclusive offers and discounts