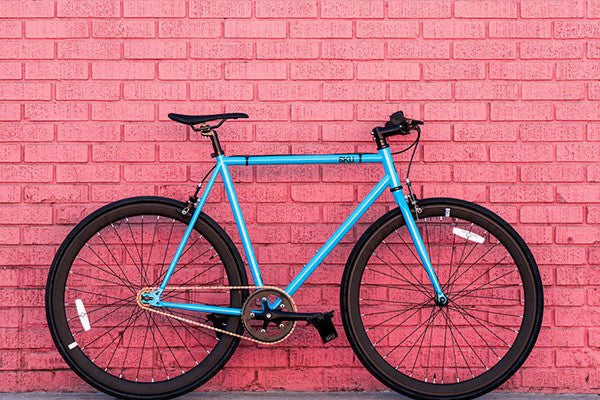 New 6ku Fixie Bikes: Iris & Rogue
6ku Bikes has released two new color options for their popular fixie bike line, the Iris and Rogue. While both models feature a new paint color, the specs are the same as the other fixed gear bikes in the line and come with all of the quality riders have come to expect from the brand.
The 6ku Iris Fixie model has a gloss sky blue bike frame with black components and is quickly becoming one of our favorites around the office. The blue pops off the bike, especially with the contrasting black parts.
The 6ku Rogue Fixie features a pinkish, almost lavender paint finish and also comes equpped with black parts and components throughout.
Every 6ku fixie bike features a high tensile steel frame that is fully tig welded and comes with a matching steel fork. The bike comes with stylish 40mm deep-v alloy rims, comfortable riser bars, a flip-flop rear hub, and a smooth riding sealed bearing bottom bracket.
Get all of that for only $199 plus a free light set at City Grounds. Hit the link below to checkout the full fixed gear bike line from 6ku.
Shop Now
Related Posts
Sign up to the City Grounds mailing list
Receive exclusive offers and discounts