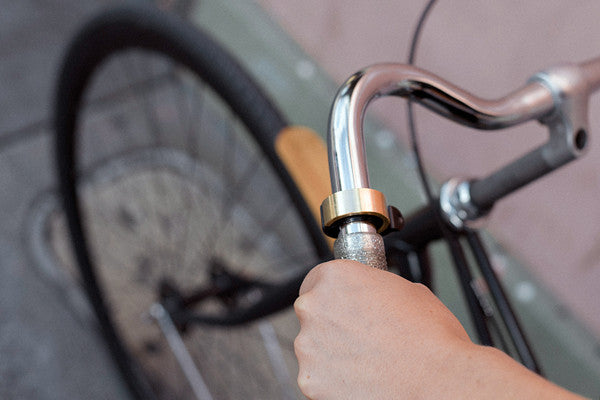 Knog Oi Bike Bell: A New Take On Bells
The Knog Oi is a bike bell that looks nothing like a typical bike bell. Which is not surprising if you follow Knog as a company, a company who acts nothing like a typical company. The Australian based team has continually produced high quality cycling parts, components, and accessories that break the mold of the products you typically find at your local bike shop.
In this case, the Oi is no exception. The minds at Knog came together and tackled the aesthetic problem of a typical bike bell and turned it into a beautiful and highly functional bicycle accessory.
The Oi bell's shape originates from its home - the handle bar. Knog's design team explored hundreds of iterations in designing the style. Then tested and prototyped different widths, depths, materials, curvature, actuators, springs and more to get to the optimum design.
Where bells usually protrude up or out, the Oi doesn't. It appears to hover around the handle bars. In one sense, it's discreet. But in another, it stands out as unrecognizable.
While the Oi looks great,it also needed to function as a bell - and that meant sounding great too. Knog tested numerous prototypes to get the perfect pitch, length of ring, and volume. With a spring-loaded actuator built into the mount, the strike of the bell is firm and fast, allowing a good balance of volume and longevity of sound. To compare it to a musical instrument, where some bells play a single note, Oi plays a chord.
Whatever size handlebar you are running, the Oi has a solution. It comes available in two different sizes including small (for 22.2mm diameter bars), and large (for 23.8mm to 31.8mm diameter bars). 

And the best part - all of this innovation will only cost you $19.99 at City Grounds! Grab the Knog Oi Bell in brass or silver color options by hitting the button below...
Related Posts
Sign up to the City Grounds mailing list
Receive exclusive offers and discounts