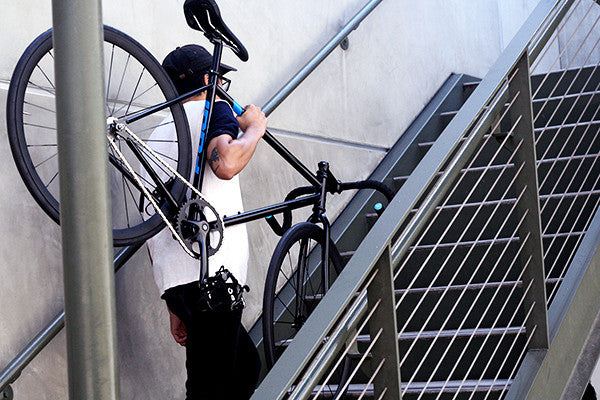 CG Staff Pick: 2016 Fuji Track Bike
The 2016 Fuji Track Fixed Gear Bike is a favorite of the staff here at City Grounds, and for good reason. This bike is easily one of the best complete fixed gear bike deals available in the market today and has quickly become one of our most popular items that we sell.
The versatile Fuji Track Bike is a bike that's as much at home on the velodrome as it is getting you around town for a cup of coffee. The frame is made from stiff and durable custom butted Elios 2 chromoly, which is a big upgrade from your typical price point fixie.
The track geometry design allows this bike to be used on the velodrome, but unlike most straight up track bikes, the fork features a gentler rake (angle) for easier handling. This helps this track machine make an easy transition to the city streets.
As with all Fuji completes, each part and component has been carefully thought out, tested, and built with care. The track bike is no exception to this and includes quality Fuji components such as a forged alloy 46T track crank, 16T fixed cog, track style drop handlebars, and sealed cartridge bearings. The completes also come with front and rear brakes for the daily commuter using it off the track scene.
All in all, the 2016 Fuji Track fixed gear bike is the ultimate utility bike, ready to adapt to whatever you decide to throw at it. Ride it casually, cruise your city, or attack the track - it's up to you! Plus, at only $299.45, this bike is an absolute deal, available exclusively at City Grounds.
Check it out now in our online store by hitting the button below!
Related Posts
Sign up to the City Grounds mailing list
Receive exclusive offers and discounts