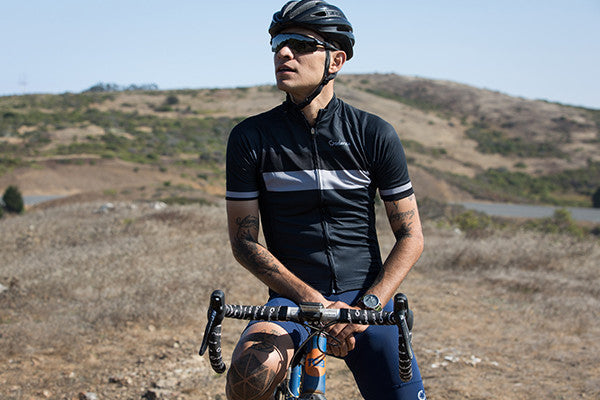 Cadence Collection Cycling Jerseys In Stock
New Cadence Collection jerseys, bibs, and other performance gear are now in stock at City Grounds. The jerseys that Cadence produce are some of the highest quality on the market and feature premium Italian fabrics and are actually made in Italy. All jerseys are constructed with an 11-panel anatomic pattern that delivers the perfect fit for improved performance (which is a fancy way of saying that these fit great). Jerseys also feature three rear pockets on the back, a full length zipper, and come in a multitude of colors / designs.
The Cadence Deuce Jersey ($140.00) keeps it simple with a color block design and simple logo hit on the left front chest. Get this one in black, grey, or navy.
My personal favorite, the Cadence Pulsar Jersey ($140.00), features the brand logos prominently as well as a mountain-esque line graphic (reminiscent of a certain Joy Division album cover). This one is available in black or grey.
We might be a little bias as California natives on this next one, but the team over at Cadence killed it with the Cadence California Jersey ($140.00). This jersey was part of a larger collection which included California themed water bottles, bags, and a full kit. 
Last but not least is the Cadence Europa Jersey ($140.00), a classic color blocked design with multiple Cadence logos for maximum branding potential. Represent and stay visible with the eye catching hits of red on this.
Those are just some featured items from the new Cadence offerings, to check them all out, hit the button below. Oh, and don't forget we have a limited time coupon code (BN25) for 25% off some of these items!
Related Posts
Sign up to the City Grounds mailing list
Receive exclusive offers and discounts