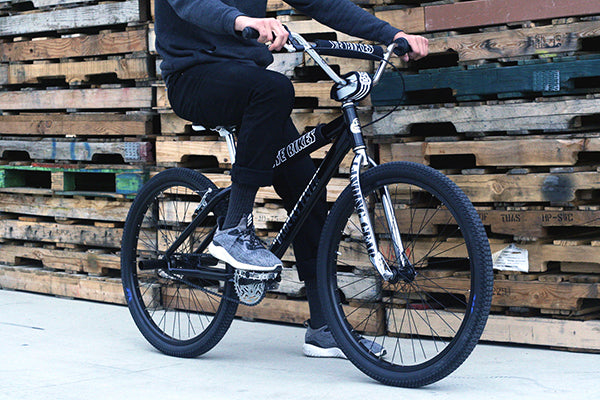 2018 City Grounds x SE Bikes Blocks Flyer
First, we teamed up with SE Bikes and brought the world the limited edition CG x SE Bikes Big Ripper 29" BMX Bike. Then we followed it up with the limited edition CG x SE Bikes So Cal Flyer 24" BMX Bike. Now, we are proud to introduce the latest addition to this limited edition collection, the CG x SE Bikes Blocks Flyer 26" BMX Bike.
The Blocks Flyer bike itself takes after it's bigger brother, the Big Ripper, but features smaller wheels, built to speed through the streets or cruise in style. We've kept the color scheme consistent throughout these limited edition offerings using gloss black paint and hits of chrome / silver throughout. 
The CG x SE Blocks Flyer ride is built with a 6061 aluminum frame, Landing Gear forks, 26" wheels, SE Bikes padset, Rad Plate and pegs for poppin' wheelies through the city. 
Don't miss out on this limited edition run of one of the most popular models in the bike game. These will go quick!
Related Posts
Sign up to the City Grounds mailing list
Receive exclusive offers and discounts